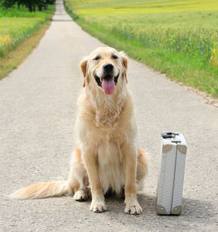 BOARDING

When you leave town who will take care of your special companion? Leave your worries at the door and let us treat your pet like our own! We offer comfortable full service boarding for dogs, cats, and many exotic animals.

In our climate-controlled indoor facility, we have separate areas for dogs and cats. We do our best to maintain each individual pet's schedule to decrease anxiety levels during your pet's stay with us. All animals are boarded and walked individually. If you request, we can board dogs from the same family together.




Trust us to provide the best care for your pet while you are away:

•Our staff pays close attention to your pets to make sure that they are comfortable, eating well, and are happy. All pets' weights, appetites, and bathroom habits are recorded daily.
•You can relax knowing that any concerns about your pet will be immediately brought to a veterinarian's attention.
•Our canine guests get three walks daily, including two 15-20 minute walks.
•Our feline guests get special attention, including snuggle time, play time, and a sunny window.
•Each pet's boarding area is cleaned and sterilized daily (or more frequently if soiled).
•We are well-trained in caring for pets with special medical needs, such as cardiac patients, diabetics, patients recovering from orthopedic surgeries, and other pets on medications.
•Since we limit the number of pets that we board, all of our boarding guests receive individual attention.
•We provide high-quality diets and treats (or you can bring your pet's food from home).
•We know that pets like to have items that remind them of your and of home. Please understand these items need to be permanently identified with your pet's name and your last name, and we will do our best to keep them with your pet (used blankets, bedding, clothing will be washed daily).


Flea-Free Facility

In order to maintain a flea-free facility, a staff member will check your pet for any signs of fleas at the time of check-in. If fleas or "flea dirt" (flea feces) are found, a topical flea control (such as Frontline or Comfortis) will be applied (at an additional charge).

Proof of Vaccinations Needed

Proof of current vaccines is required for admission into the boarding facility. If your pet's vaccines were given at another clinic, you can bring proof from your veterinarian or we can call to have the records faxed to our clinic. If vaccines are not current or no proof is available, one of our staff veterinarians will examine your pet and administer appropriate vaccinations upon admission.
DOGS: DA2-P (distemper-parvo), Bordetella, and Rabies
CATS: FVRCP (feline upper respiratory) and Rabies

Hours for Drop-Off and Pick-Up

Hours for drop off and pick up are the same as our office hours:

Boarding Admission Forms

When dropping your pet off to be boarded, please allow additional time for the check-in process, so that we can make sure all of your pet's needs are met. A number where you can be reached while you are away is necessary; if you will be unreachable we will ask for the name and number of an authorized agent.






---